Contact Us:
530-622-3593
P.O. Box 1058
El Dorado, CA 95623
Whatever your age or music interest, the El Dorado Music Studios have expanded to include lessons on piano, drums, guitar, recorder, violin, as well as voice training. On any given afternoon, while strolling through the Gallery El Dorado waiting for your order of sumptuous cuisine offered by Allez, Jennifer and Christian Masse's busy French take-out restaurant, one delights in the convergence of multiple musical strains coming from studios located at the back of the 147 year old building which opens onto the garden patio. Five instructors are busy Monday through Saturday in three studios located in Gallery El Dorado in the historic town of El Dorado. Each of the instructors can be contacted personally or through the gallery at 530-622-3593.
Piano is taught at multiple levels by Jesse Bye.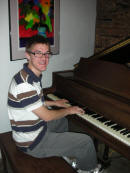 Bye is a classically trained pianist with over ten years of experience. He has been awarded the Music Teacher's Association of California's Certificate of Merit in Advanced Level Piano having passed Level 10 with honors. He continues to study piano with the hope of combining his music and computer science talents while continuing his education at UC Davis. Bye primarily teaches classical piano but also enjoys teaching jazz and popular music with an emphasis on technique and ear-training. Jesse Bye can be contacted at 530-644-4491.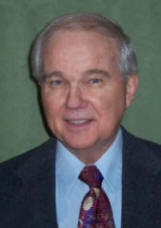 Voice instruction is offered by William Pearson who has been teaching professionally since 1966. He holds a Bachelor of Arts degree in Music from California State University, Sacramento and a Master of Music Education degree from Indiana University School of Music. Pearson's graduate studies focused on choral conducting and voice pedagogy. He studied voice privately for eight years with Joseph J. Klein in Glendale, California. Pearson has taught music in the Bakersfield, California public school system, at East Los Angeles College, California, and at Rio Hondo College, California. He enjoys conducting vocal clinics for choral organizations as well as providing voice therapy services. Pearson has been involved in professional choral activities as both member as well as soloist. He founded, directed and currently performs with the Cantare Chorale in El Dorado County and is an active member of the Gold Rush Barbershop Chorus in Placerville, California. Bill Pearson can be contacted at 530-626-0556 or cell 530.409.2393.
Suzuki Method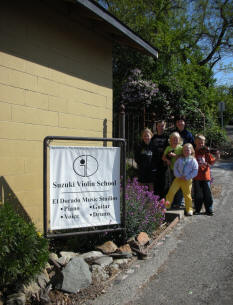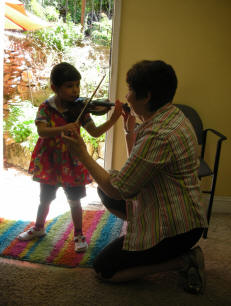 Suzuki instruction is offered for the violin as well as piano. Linda Reams, a long time member of the Sierra Symphony, has been teaching the Suzuki method for violin in the area for over 20 years. For information on limited openings contact Ms. Linda Reams at 530-626-0278.
Marsha Cook has been teaching the Suzuki method of piano instruction for twenty five years. Ms. Cook can be contacted at 916-971-0420.